It's Day 4 of A Geeky Gal's 30 Day Geek Out Challenge! I'm a little late to the party but that's okay. I encourage all of my blogger friends to participate as well!
---
Hoo boy. Unfortunately this one wasn't too long ago. I went with the always awesome Carney Vorous on a trip to Los Angeles, CA to attend E3 2018. Carney was able to obtain a Media badge for E3 through her job. I wasn't so lucky, and coughed up way too much money for a Gamer Pass.
I DO NOT RECOMMEND THAT ANYONE EVER WASTE THEIR MONEY ON THIS GAMER PASS.
Unless, of course, you like being treated like cattle. Because that's how it was in the morning lineup to get entry to the show floor at E3. We had arrived at a reasonably early time (8ish?) to get to the con and check things out before our pre-scheduled Smash Bros. demo at the Nintendo booth.
We tried to get in through a normal entrance. Carney could access this entrance with her pass, but I was directed to an underground parking garage queue hall. It was filled with hundreds of people already lined up with no end in sight. Turns out they weren't letting the Gamer Pass attendees onto the show floor for another hour or so, and even then it would take an undoubtedly longer amount of time to get everyone on this massive hellhole of a line through security checks.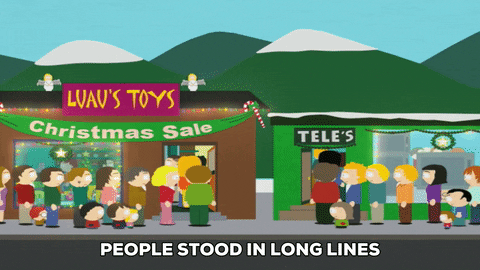 I will admit it – I completely panicked. I didn't want to miss my Smash Bros. demo time slot. Carney didn't know what to do, I told her to go check out the show floor and do some recon. Things were looking grim and I stood around by myself on this insane line full of gamers for an hour before I was ready to take serious action.
Carney came back to hold my spot in line while I went to security. The nearby security guard didn't want to hear any complaints from me and I was starting to get upset and worked up. I walked to the other end of the parking garage where a group of security guards were chatting, and I basically started bawling and begged someone to help me get through. I acted as though my demo appointment was an important meeting with Nintendo that I needed to get to right away. Some poor guard took pity on me and said he'd help me get to the show floor on time.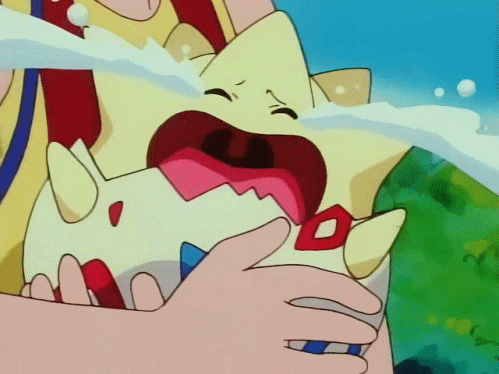 Yes, I had to resort to tears to get myself out of that shitty gamer hoard. That's the real truth of it lol! I texted Carney that I was going in and she met me inside the con. And I was easy to find, because literally all you could do at E3 was wait on lines. Unless you had that Media badge and slipped in at 9am, you had to wait hours and hours to play any game demo. E3 had completely oversold tickets to this event and it was an agoraphobic nightmare.
I blogged about this craptastic experience when I got home. You can read it all here, but here's the important highlight:
Things that were pretty shitty about E3:

Lines. LINES!!! I quickly realized that E3 actually stands for Everything has 3 Hour Lines. Because that's how it is. We got there at 9am and by the time I was scanned in and at the Nintendo booth at 9:24, the line for Let's Go Pikachu was 3 hours long. It was very disheartening. The only reason I was able to play the Smash demo was because they forced us to book time slots in advance. But now I'm actually grateful they made me do the extra work because that at least ensured that I got to play SOMETHING. Jeez.
Lack of Panels. There were not many 'events' planned for E3. Not that it would have mattered, because you'd probably have to commit an entire day to waiting on the line to get in. But one of the best parts of conventions are celebrity panels. Why aren't there any at E3?
The Cool Nintendo Events Weren't Actually At E3. The Splatoon 2 Tournament was held at a theater offsite and you had to line up at a specific time on June 11th (BEFORE E3 EVEN STARTS) to get wristbands. Guess what? My flight was only arriving at that time. Same deal with the Smash Bros. Tournament – that day they were giving out tickets at the same time as my Smash Bros. demo time slot. Soooo wait in a line in hopes of getting tickets to watch the Smash Invitational, or actually go to E3 and play the demo I had registered for in advance. Naturally we went with the sure thing. But why was Nintendo forcing us to pick which thing was a priority? It felt very unfair. I caught a few glimpses of the tournaments on live feeds they had on TV screens. Whoop.
You Can't Even Go to the Major Press Conferences. Yeah yeah I don't have a press pass. But in the game company livestream videos, it always looks like a huge auditorium filled with fans in attendance. In reality, those are all paid professional press badge holders at those events. They are getting PAID to cheer. Actual die-hard fans don't even get to go to the press conferences. Hmph. Plus they hold the press conferences early in the morning when the rest of us plebs have to wait in lines to get in. We don't even get to watch unless we wanna burn mobile data.
So there you have it. I had to cry to get into a convention, and even when I got in, the whole experience was an overall disappointment. I wouldn't say the same for my trip overall, which was a lot of fun despite the lameness of E3, but yeah. I wouldn't go again unless I had a media badge.