If you play Animal Crossing: New Horizons, then you know that there is SO MUCH TO DO. So many items to collect and craft. Bugs and fish to catch. It can be overwhelming! Naturally, this is why guidebooks exist. I purchased the official guide for AC:CF and AC:NL, but for some reason I didn't preorder it for AC:NH. Now, of course, the guide is sold out everywhere and people are charging outrageous prices for it on eBay.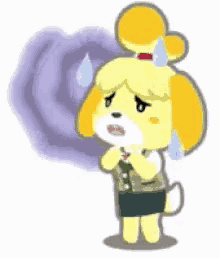 So forget that. Here are some other resources that I have found which are great to use alongside Animal Crossing: New Horizons.
---
ACNH Apps!
Who needs a book when you can download an app, right? Apps are great because they can be updated. Since the game is expected to have many new updates throughout the year, the app is certain to update with the new info as well. Take THAT, printed paper!
I have been using ACNH.Guide on my Android phone. It is apparently also available on the App Store. I like this app because it lists all of the furniture and DIY recipes that you can obtain, as well as the item's colors and alternate customization options. You can do a full sweep of your inventory and check off everything in the app, including your music, bugs, fish, fossils and art. ACNH.Guide also has a dashboard that helps to remind you of all the daily tasks to complete, which I think is very helpful. It even has a place to enter your turnip prices so you can predict your prices for the week, fully integrated with Turnip Prophet! On the Google Play store, the app was free with ads. I opted to pay $4 to make it ad-free and support the developer, since I'm using this app daily!
PS – I have been told that Travel Guide is also a good ACNH option for iPhone, but since I don't have iOS I haven't tried it.
---
Another important app to have ready when you're playing ACNH is the Nintendo Switch Online app. The NSO app has special features for ACNH called Nook Link which provides voice chat, the ability to use your phone's keyboard to type (instead of the in-game keyboard), full Best Friend app features (see who's online, message everyone online, direct messages) and more. Check out my video above to learn about all of the cool stuff that the Nintendo Switch Online app can do. The only thing it's missing is the Chat Log. I would love to see Nintendo add that feature in a future update…. please?
---
Websites!
Don't want to use your phone? There are plenty of resources on the internet! Most queries can be looked up via a simple Google search or by visiting a ACNH Wiki. I like the Animal Crossing Wiki on Fandom, but there are many others that can be used for reference.
---
Another useful site is TurnipProphet.io, which is a calculator that determines your chances for a large or small spike in turnip prices at Nook's Cranny, depending on a number of factors that you input on the site. It's fairly accurate and I have been using it for several weeks now. Unfortunately, I have yet to get a good spike in price at the Nook's Cranny on my island lol!
---
If you ARE blessed with an amazing turnip price, you'll want to check out Turnip.Exchange to set up an organized queue with a Dodo code, so that people can visit in an orderly fashion. This site is adorable, powered through Discord, and gives you a safe way to open your town up to strangers for a special event, such as: villagers crafting rare DIY recipes, catalog parties, high prices at Nook's Cranny, low prices from Daisy Mae, etc.! Many islands will charge an entry fee that you must agree to pay, such as Nook Mile Tickets, gold nuggets, or cash amounts. But when you're trying to sell loads of turnips in a pinch, that might be a small price to pay!
PS – Don't forget about social media for hot tips on turnip prices, DIY recipes, catalog parties, etc. Twitter, Reddit and Facebook Groups are great places to start, depending on what you're into. Do some searching to find gorgeous ACNH photo inspiration and design patterns to download!
---
"Other" Resources
There are a couple of other ways to enhance your game that I'd like to recommend. Most importantly, I highly suggest that everyone make at least one 'secondary character' for their island, if they are playing solo.
A secondary character is useful for lots of reasons:
Second House = More Storage
Double Birthdays!
More chances to participate in limited time events (i.e. the May Day Ticket)
Different Opportunities:

The villagers may offer up different Reactions to learn
The villagers ask different questions about the character's personality
I swear my secondary character Spliff always finds the rare bugs and fish faster than my main character!!!
It may seem like a big undertaking to manage another character if you aren't a millionaire in the game. I haven't upgraded Spliff's house yet, but I will when I need more storage space. So far what I have is enough. But this gives you more goals and things to work on!
FYI, it's easy to switch between characters in ACNH if you have two controllers handy. You absolutely DO NOT have to save the game, exit and switch profiles from the Home menu. That is what I did originally, until I realized that the Nook Phone's "Call Islander" app can be used to bring the secondary character into your game with Party Play! Even if you're playing by yourself, you can simply switch characters by shaking the controller and switching to your other controller. When you run around, the other character will pop into view automatically, so you don't have to worry about controlling both characters at the same time.
Just keep in mind that only the 'Leader' can use their pocket storage, so you will need both controllers available to switch back and forth, but it's not very complicated. If you happen to pick up an item and you aren't the active Leader, the item will disappear in a poof! But then it will reappear in the Recycling Bin to be retrieved later.
---
Another way to power-up your game play is to use Amiibo Cards! If you're a hardcore veteran AC gamer and haven't been using your Amiibo Cards (from New Leaf and Happy Home Designer) to get new islander residents and campsite visitors, what are you waiting for?? If you DON'T have any Amiibo Cards, then unfortunately you're going to have to pay ridiculous premiums on Amazon and eBay due to high demand these days. But it is a lot of fun to use Amiibo Cards, and I am considering doing a giveaway of some of my spares in the not too distant future. So if you don't have any Amiibo Cards, you might want to follow me on Twitter for updates!
Welp, those are some of my top resource recommendations for Animal Crossing: New Horizons. Do you use a particular app or website that I didn't mention? I'd love to learn more! Let me know in the comments.