I'm at Day 18 of A Geeky Gal's 30 Day Geek Out Challenge! Back on track and I'll try to stay that way! We shall see lol!
I encourage all of my blogger friends to participate as well!
---
Mmmmm… I'm a single gal and I'm gonna be greedy here for a sec with my answer lol! I'm going to have to choose Christian Bale as BATMAN!!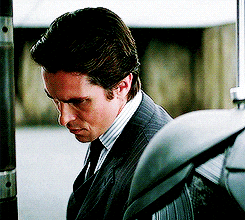 I mean, hell, any Batman would be a dream to meet IRL (and maybe go on a billionaire night out on the town with this eligible bachelor?!?!) thanks to his sweet tech, impeccable taste and chiseled features. But Christian Bale Batman? With that sexy Batman whisper voice? That's some next level hottiness! 😍😍
What I wouldn't give for a ride in his Batmobile…. VROOOMM!! Hahaha! We could go for a ride around Gotham City, he can take me to his favorite exclusive upscale restaurant for dinner and drinks, and then see what sort of trouble tries to get in our way for the evening!! LMAO! That would be the best date everrrr!
Full disclosure: I've loved Christian Bale since the 90's! In 1992 he starred in The Newsies, which was a Disney musical about the newsboys of New York City going on strike. He sang and danced with an awkward unBritish accent and I was in love. (Fun fact: Bale was also the voice of the young sailor Thomas in the Disney animated film Pocahontas a few years later!)
I know Christian Bale has a bit of a reputation for being hot headed, impatient and kind of a dick on set. But he seems to take his craft so seriously that he just cannot EVEN if someone is getting in his way. And I love that! He's super dedicated and can become any kind of character, and I think that's a really respectable trait to have as an actor.
So Christian Bale, as Batman, or you know… as yourself… if you're out there reading this, let's meet up! 🤣🤣🤣🤣