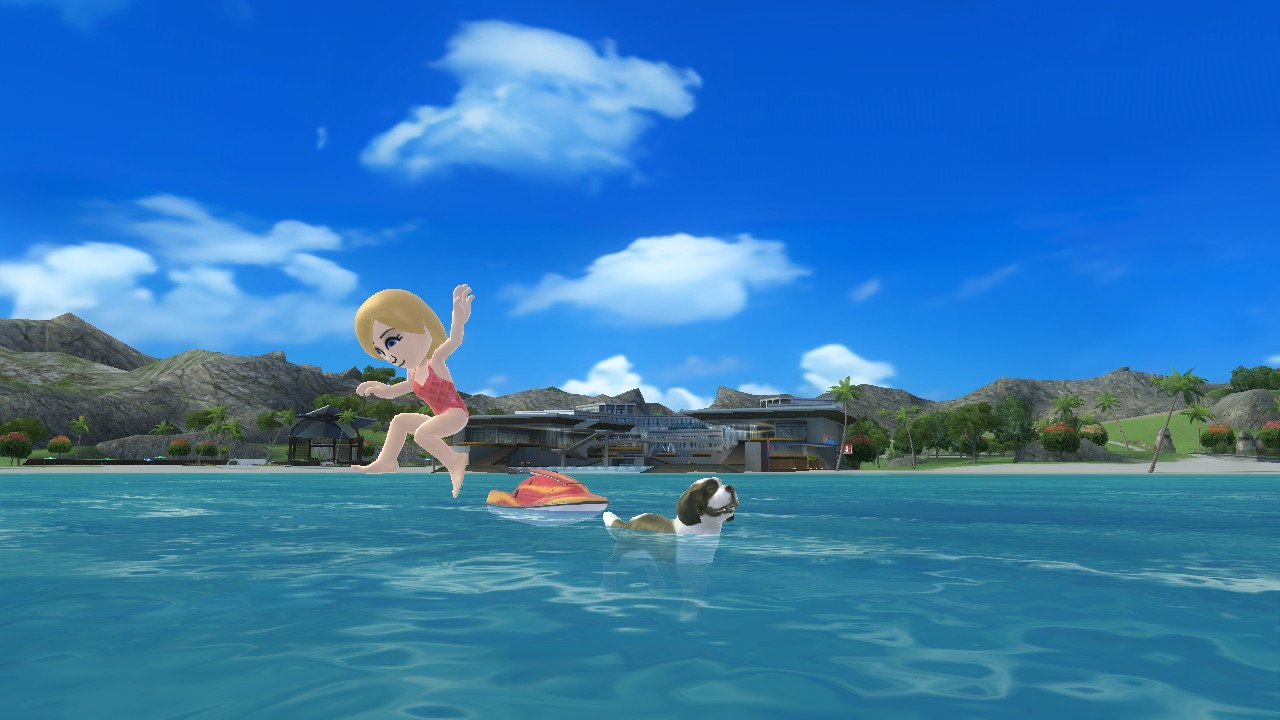 It's Labor Day Weekend! Do you have any big vacation plans? I don't! Except of course, my private handheld getaway: Go Vacation for Nintendo Switch! This game is packed full of different activities and mini-games to play. Let's take a quick look at what the different resorts have to offer.
Marine Resort
I've never been to Hawaii, but Kawawii Island must come pretty close in comparison. You get to explore the island using a marine bike, ATV, and a surfboard. Activities include beach volleyball, skydiving, scuba diving, and even a triathlon. You can take a scenic flight tour around the island to see beautiful views, or you can swim around the cove searching for secret treasure boxes. What I especially like about Go Vacation is that you can easily jump from the various activities using a menu, or you can roam freely around the island using your character.
City Resort
If you were a fan of the old Tony Hawk games from way back in the early 2000s then you will like the City Resort. This area gives you a pair of inline skates and a skateboard to roam the city with, and there are tons of half pipes to do tricks and rails to grind on. You gain points towards your character if you successfully complete a trick at any time, whether you are in an official activity or just doing your own thing. You also gain points by completing challenges in each resort, which in the city include activities like street racing, skate tricks, and fun arcade games like whack-a-mole and table hockey. What are all these points for? Unlocking furniture for your customized VILLA, of course!
Yes this game has a bit of everything; my need to design and customize a house is met with Go Vacation's Villa! (Plus my need to like, own a beachside villa. This way is a LOT cheaper lol!) There are several decor themes to unlock, so there is a lot of motivation to complete ALL of the game's activities to rack up as many points as I can get. The Villa area isn't a resort with activities, but I thought it was worth mentioning here.
Snow Resort
For those of us who enjoy winter sports, Go Vacation includes a ski resort on a mountain, complete with bunny slopes and as you climb higher, there are steeper and more perilous options. There is a chair lift, but I like to use the snowmobile to get up the mountain. You can also use a set of skis, a snowboard and a snow tube to get around in this area. Activities range from your typical ski slaloms and long jumps to dog sledding, snowman making and snowball fights!
Mountain Resort
Honestly, I think this area should have been named Ranch Resort, because a lot the activities are what you might find on a dude ranch. You can ride a horse, an off-road car, or even in a kayak in this forest/mountain resort. There are lots of shoot-em-up target practice activities to play, as well as white water rafting, tennis and equestrian sports. Not to mention paragliding, where you can see more gorgeously designed aerial views while hitting balloon targets.
Is that all? No. I didn't even describe all of the various activities in each resort, you'll have to play for yourself to learn about everything! But there are also fun little side objectives, like finding all of the bungee jump locations in each resort, or taking photos of all of the animals that can be found on the different terrains. (Yes, this game has that Pokemon Snap element too lol!) There's also fishing, treasure hunting, photo op spots… Go Vacation truly has all of the things I like!
The only thing that is missing are cats. You get a pet dog in-game (obviously because of the dogsledding activity – guess a kitty can't pull a sled) but the only cats to be seen are in the City Resort, roaming around… or a giant lion sitting in the middle of the street.
Which resort do you think sounds the coolest in Go Vacation? It's a great way to take a vacay without paying for airfare! I think the activities are a lot of fun, and is a nice change of pace from some of the other games I've been playing lately. I like how the joy con controls aren't too overly complicated, and I look forward to trying out the multi-player functions at a gamer meetup next week. It's also worth noting that Go Vacation was a little cheaper than most Switch games, priced at $49.99. I traded in some old games towards the price and I am quite satisfied! If you need a vacation, but only have fifty bucks to spend… try Go Vacation!