Missing Characters: Possibly Retired List
Welcome to the next issue of the Animal Crossing Inquirer! Here we will be taking an in-depth look at some of the DARKER sides of the beloved world of Animal Crossing. You may recall my investigative work during the Able Sisters Conspiracy of Animal Crossing: City Folk. These days, in Animal Crossing: New Horizons, even more questions have come up that need answers! It's time for the Animal Crossing Inquirer tabloids!!
Click here to read past issues of the Animal Crossing Inquirer
---
In the Animal Crossing Inquirer debut, an extensive list of missing persons was presented. There were a few names that were intentionally left out because there is evidence to suggest that these individuals are not missing, but possibly retired instead. Three new characters in ACNH are quite obviously decendants of three prominent missing characters from games of old. It seems that Chip, Nat and Joan have been replaced by CJ, Flick and Daisy Mae, respectively.
Daisy Mae has openly stated that she is filling in for her grandmother. Due to Daisy Mae's sunny disposition and openness to discuss Sow Joan's Stalk Exchange, it is assumed that Joan is alive, doing fine, and taking a well earned rest after a life of financial enterprise.
Similarly, CJ has been very vocal about the love of fish that he shares with his father, albeit for different reasons. It has been inferred that CJ stands for "Chip Jr." and that he learned about fish from his father, Chip, who used to run the fishing tournaments in all previous Animal Crossing games. In those fishing tournaments, Chip would gobble down the fish as soon as it was submitted in the tourney, giving it a point rating or measuring it depending on the theme of the contest. Perhaps CJ was not impressed with his dad's ploy of using the tournament as a free buffet for himself. CJ is more focused on the art of fishing – not the meal that the fish provide – and he is dedicated to providing quality content for his sea-sports live stream.
However, Flick is much more quiet about having any potential connection to Nat. There are some similarities in their appearance, but it would seem that Flick has gone to great lengths to be different. When Nat would run the bug tourneys in older Animal Crossing games, he would be very judgmental on the bug depending on it's size and rarity. It is also assumed that Nat would eat all of the bugs submitted in the tournament. Conversely, Flick is very much about appreciating all insects equally, and would never dream of eating one. Instead, bugs are Flick's artistic muse. It would appear that Flick is actually a bit ashamed of his father, and this is why he won't talk about their connection.
Luckily for this investigation, Flick and CJ are partners and roommates. Their families are apparently friendly and they grew up together, so CJ has some insight and eye-witness testimony to clarify the situation:
With CJ's testimony, it is safe to say that Nat is alive and well. It is likely that Nat and Chip decided to retire and pass along their family business of running tournaments to their younger counterparts. Perhaps the barbaric practice of eating the fish and bugs at every tourney had been frowned upon by their children, and they convinced their fathers to let them try a new approach to the seasonal contest. It does leave the question, however…. what do CJ and Flick do with the insects and fish that they purchase for such a high premium?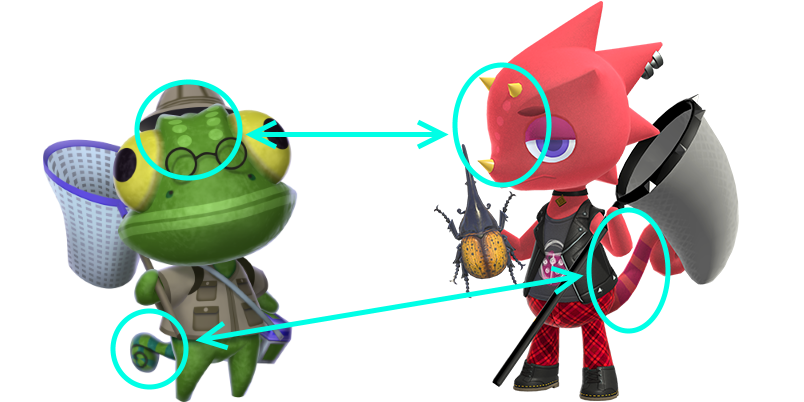 Another question that goes unanswered here is that if Joan, Chip and Nat all retired voluntarily, where was the retirement party? Why were they ushered away quietly, without celebrating their years of hard work and contributions to the festivities of the Animal Crossing world? These are just some of many questions that the Animal Crossing Inquirer continues to investigate.