Countless Special Characters Remain Missing – Part 2
Welcome to the next issue of the Animal Crossing Inquirer! Here we will be taking an in-depth look at some of the DARKER sides of the beloved world of Animal Crossing. You may recall my investigative work during the Able Sisters Conspiracy of Animal Crossing: City Folk. These days, in Animal Crossing: New Horizons, even more questions have come up that need answers! It's time to start up the Animal Crossing Inquirer tabloids!!
---
For the debut of the Animal Crossing Inquirer, it is important to recognize, remember, and pay tribute to all of the special characters who remain absent from Animal Crossing: New Horizons. These characters were loved by all, and are sorely missed. Unfortunately, due to the staggeringly high number of missing persons, this article will be split into multiple parts. If any of these characters are still out there, we simply ask that their captors let us know that they are okay. Maybe we can come to some kind of arrangement. Please contact the Town Hall with any information about the following characters:
Brewster
Let's begin with a missing character who has connections to multiple potential witnesses who won't talk. Brewster, of the well known cafe "The Roost", has also seemingly disappeared. The cafe had always been a bustling business, which started out in the basement of the Museum run by the wise owl Blathers. Brewster had an special affinity for gyroids and was a bit of a collector as well, which made him a perfect bestie candidate for Blathers. But surprisingly, for the owl who often has TOO much to say, Blathers has not uttered one hoot about the disappearance of his longtime companion. A bit out of character, is it not?
Perhaps things started going sour with Brewster and Blathers in AC:NL. Brewster had sourced some special new blends of coffee, and business was expanding to the point that The Roost needed a stand-alone location, separate from the Museum. Might this have caused a drop-off in visitors to the Museum…? 
However, there may be more to this story that has yet to come to light. In AC:NL, Blathers' Museum lost more than Brewster's cafe. The highlight of the cafe had always been the weekend visit of K.K. Slider, the popular musician. But when Club LOL opened up in AC:NL, K.K. Slider was performing there full time instead of at The Roost or the Museum. Did these venue changes lead to a serious clash between Brewster, Blathers and K.K. Slider? Could it even be something that would lead to a… disappearance? Because The Roost's business was booming when Brewster was last seen. What could cause this thriving coffee shop, and it's proprietor, to disappear entirely?? 
Dr. Shrunk and Master Frillard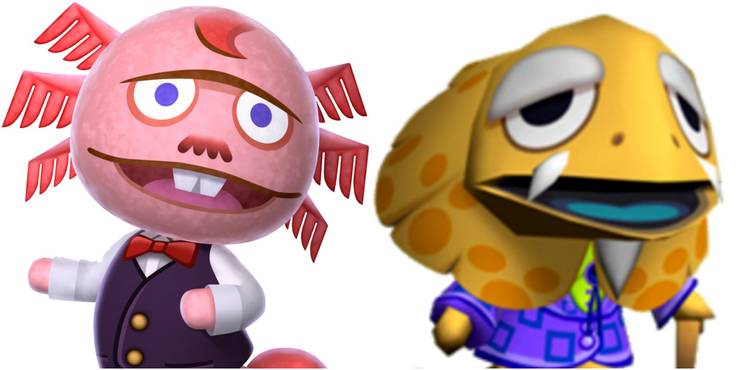 Looking further into this mysterious breakdown between Brewster, Blathers and K.K. Slider, the investigation brings us to the owner of Club LOL: the renowned Dr. Shrunk. Why would a psychologist have opened up a nightclub?
Research shows that Dr. Shrunk began his career in AC:WW, going door-to-door offering consultations with villagers to help them understand their emotions. His practice expanded in AC:CF, but not in the way you'd expect. Instead of opening up a clinic in the city, Dr. Shrunk was found performing stand-up at the Marquee in AC:CF. Occasionally, on Dr. Shrunk's days off, he would be replaced by Master Frillard, another 'comedian' and expert in teaching emotions. It is important to note that Master Frillard was last seen at the Marquee and has not been seen since, which is an even longer disappearance than many of these other characters. 
Dr. Shrunk continued performing in AC:NL when he opened up Club LOL, and did not mention anything about his missing colleague Frillard. He performed a solo comedy act during the daytime hours, and hired K.K. Slider to perform popular music at night, offering house music and acoustic shows. Why was Master Frillard excluded from Club LOL? Might there have been trouble brewing between Dr. Shrunk and Master Frillard in AC:CF? Or did Master Frillard not fit in with the 'cool kids' at Club LOL? Could being excluded from Dr. Shrunk's new venue have been enough motivation to cause someone to vanish??
Blanca
Another well known character that has gone missing is Blanca, the mischevious cat. Even her gender is ambiguous depending on where you live, but we'll say Blanca is a female for simplicity's sake. This character has a strange past, but that's because she's sort of a strange character… because she has no face! Her entire head is a blank slate. Originally she would ask villagers to draw her a new face, but that often resulted in a face that was horrifying at best, and more often wildly inappropriate. 
In AC:NL she changed her approach, using new makeup and disguise techniques to turn herself into other villagers on April Fool's Day as a prank. But where did she learn these new techniques? Is it possible that Blanca has not actually disappeared, but instead is in disguise as someone else, assuming their identity and using it for… who knows what reasons?? More research is needed for this case!
Harriet
Blanca was not the only master of disguise in AC:NL. Another missing character is Harriet, the poodle who once ran a popular salon called "Shampoodle's." The salon started as a small extension within the Nookington's Department store in AC:CF. Harriet found herself with an extensive list of clients and requests, and ultimately expanded her business to a stand-alone location in AC:NL, quite similarly to Brewster. However, there does not seem to be any evidence of a falling out between Harriet and Tom Nook.
What is interesting is that in AC:NL, Harriet had acquired new makeup and disguise technology to use at Shampoodle's. In addition to an expanded menu of hairstyle options, Harriet was suddenly able to create a mask that was so realistic that customers could look like an entire different person – a Mii Mask, as she called it. 
Where did Harriet and Blanca learn this new infallible disguise technology? These characters are both currently missing – but speculation continues to spread that it is certainly possible for these two characters to still be among us, in disguise. But why? Could it be because the new mirrors in AC:NH made Shampoodle's salon completely superfluous, putting Harriet out of business overnight?? 
Katrina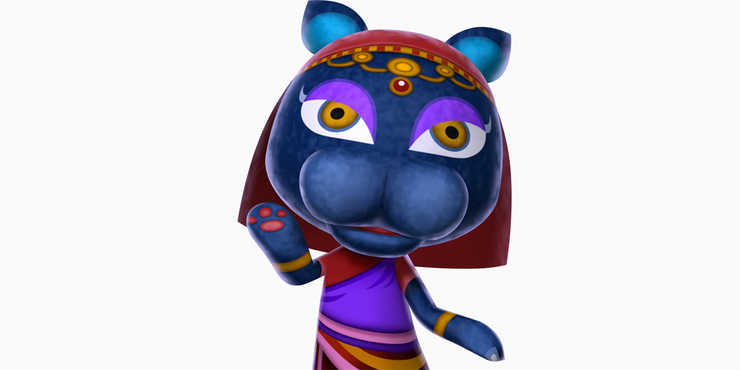 If you wanted to consult the stars or tarot cards to help find these missing persons, you'd be out of luck because the resident fortunte teller Katrina is also on the list! At first she was a roaming character, with her tent popping up unannounced on a random day during the week. But in AC:NL, Katrina too had expanded her business to a fixed location in the busy city area… right next to Club LOL. Her services remained unchanged, telling people what sort of luck was in store for them. 
Katrina has always been a staple character in the Animal Crossing world, appearing in every iteration except for AC:NH. She was last seen at the AC:HHD requesting a new interior design for her house. Witnesses say she was dressed differently – in casual wear – at the time. Some claim to have spotted her in a tent in campsites in AC:PC, but that is a rare sighting. Very little is known about the sudden disappearance of Katrina. However, since she is a powerful mystic, it's definitely possible that she disappeared on purpose! But why??
Lyle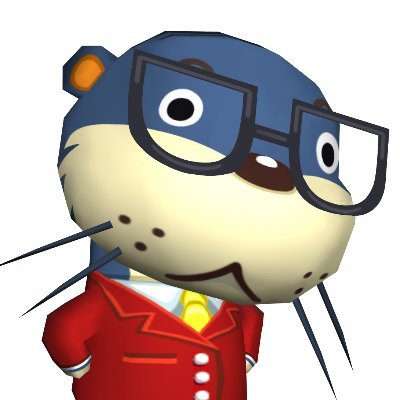 Another mysterious character disappearance is Lyle. This fellow had held all sorts of odd-jobs within his career, starting off as a [very insistent] insurance salesman. From there he moved up to an office job at the Happy Room Academy in AC:CF. At the HRA, Lyle would be the one to explain the weekly score that was issued to home owners, and would try to explain feng shui to his clients. It was speculated that Lyle was also the one sneaking into villagers' houses to perform these inspections and determine their weekly score. Lyle was well known for his grumpy attitude, and was often seen complaining about his job. 
When Tom Nook opened up Nook's Homes in AC:NL, he hired Lyle to work in the front office. He continued this role in AC:HHD, and even got his niece Lottie hired there. (Lottie is also a known missing person, last seen at Happy Homeroom in AC:PC.) There was a rumor that Lyle was actually the person wearing the Zipper T. Bunny suit on Bunny Day, due to some people saying they could hear Zipper complaining about doing the job and grumbling that people could see the zipper in the back of his costume. 
These days in AC:NH, we did see Zipper T. Bunny, but there were no muted complaints when nobody was looking, aside from a brief sigh. We still receive graded HHA scores every week, but Lyle himself is nowhere to be found. Is he working behind the scenes somehow? Or has he been replaced?? 
---
There are many more stories of families and popular characters that have disappeared from the Animal Crossing realm. Please stay tuned for the next issue of the Animal Crossing Inquirer to pay tribute to the other characters, including Pete, Pelly and Phyllis!