Getting healthy is all about establishing good habits. I know it's easier said than done, and I'm certainly no stranger to weight issues. When I first started this blog a decade ago, I weighed 50 lbs. more than I do now. But I will be the first to credit Nintendo to helping me get my physical fitness back on track!
Here's a little tip that helped me get started:
If you're *embarrassed* to go to the gym, then start off by working out at home.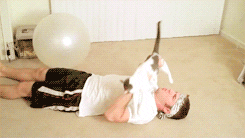 Back in 2010, I started working out at home playing Wii Fit on my Nintendo Wii. I loved doing step aerobics with the Balance Board, and happily upgraded to Wii Fit U when that game came out for the Wii U. I thought those games were great motivators to get me moving. I used the Free Run mode in the Wii Fit games in conjunction with the C25K app to train myself to get better at running, although I was only running in place back then.
I started losing some weight and feeling more confident about my body. Years later, I joined Planet Fitness and I've been going regularly (3 times a week) for quite a while now. I'm feeling much healthier and it's been fantastic! But even at the gym, your routine can get a little stale.
Enter "Ring Fit Adventure," the newest fitness game from Nintendo, now available on Nintendo Switch. RFA is a huge upgrade from the old Wii Fit installments. Instead of wiggling around a Wii remote, this game ensures that you will be getting a full body workout by utilizing a leg strap and resistance ring with the Joy Con controllers.
With these REQUIRED peripherals, the game is able to ensure that you are using proper form, bending your legs enough, and working those arms! The 'fitness ring' has some serious resistance to it and you will find yourself sweating in no time.
Not only is the physical activity upgraded, but the game play itself has had a massive overhaul. There are four game modes: Adventure (story mode), Quick Play (pre-set fitness routines), Custom (make your own fitness routines), and Multitask Mode (exercise while the game is off).
My favorite mode, of course, is Adventure mode! You can choose a male or female character who discovers a fitness ring that speaks to you, and you work together to regain the ring's powers and defeat the evil bad guy, Lord Dragaux!
In Adventure mode, you unlock exercises and they are organized by type: Arms, Legs, Core, Yoga, and Health. These exercise types are color coded. As you run through a course (yes, there is plenty of cardio in this game!), you will encounter enemy battles. Many of these enemies are also color coded and the matching exercise types are super effective against them!
There are also lots of mini games that you can play in Quick Play and Adventure mode, all targeting different muscle groups and appealing to different styles of game play.
I really love the Adventure mode because it keeps you motivated to continue on. The story line is fun – you have to save the WORLD from an evil gym-bro! Adventure mode forces you to work various muscle groups, which is key for me to switch things up from my gym routine. After just a few weeks I started noticing a difference in my core, seeing some slight definition and a smaller waistline as the game encouraged me to work my side obliques more than I had been in my regular fitness routine.
Another fun feature of Ring Fit Adventure is the log keeping. The game keeps track of how long you have spent doing physical activities. It also counts how many reps you have done for each exercise, and keeps a running total as well. Then you can screenshot your workout log and share it on social media!
I highly recommend Ring Fit Adventure to anyone who is looking to start getting back in shape, but are a little intimidated to get to the gym. I also recommend this game to fit gamers who want to switch up their routine and try something new. I guarantee you'll be sweating either way! The game allows you to adjust the difficulty, and you can change it at any time to suit your needs. There's really no excuse to not try it out!
Perfect for your new year's resolutions to get in shape. Give Ring Fit Adventure a try!