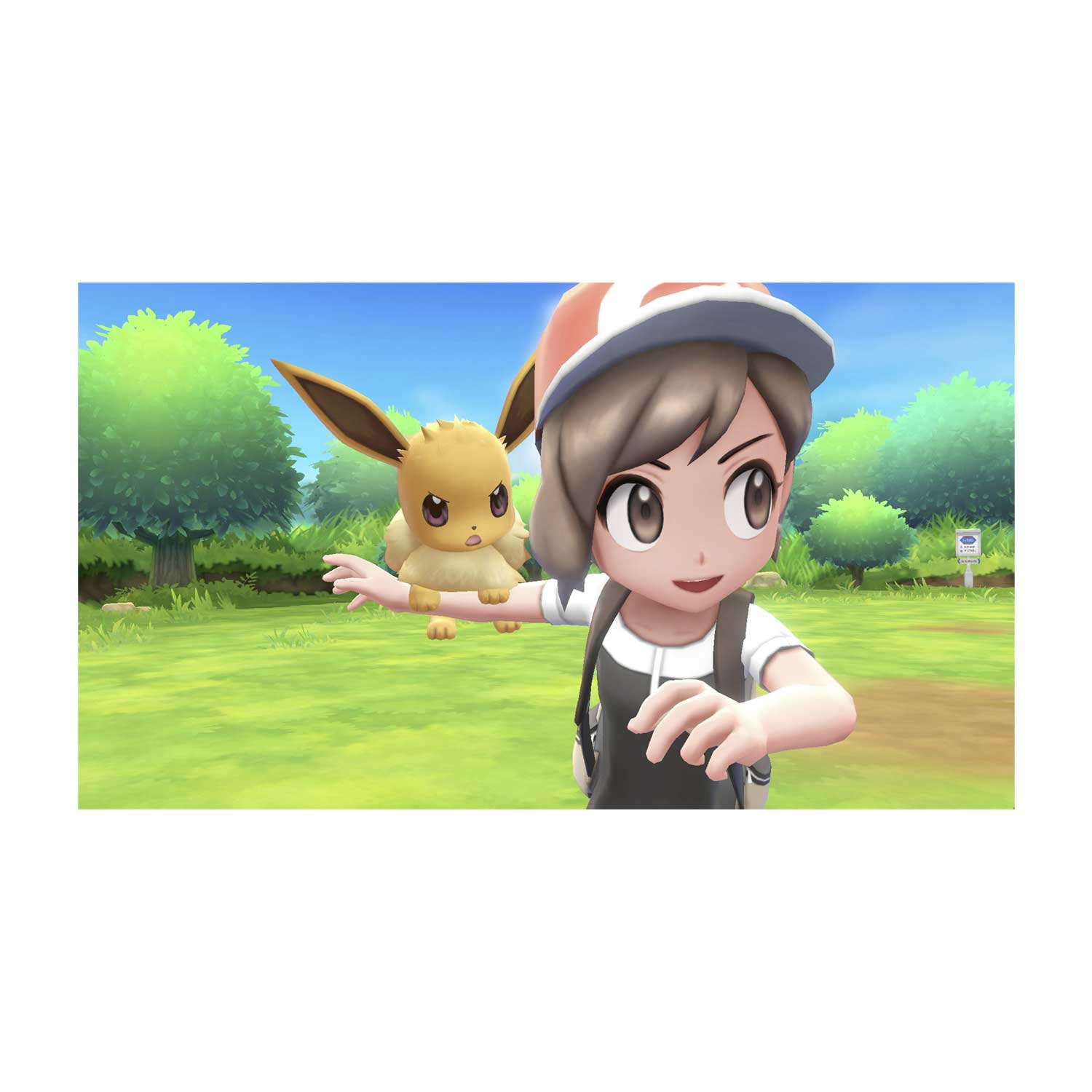 Oh man oh man I know I'm late with this one but I'm sure any self-respecting Nintendo & Pokemon fan already knows the news about the upcoming games "Let's Go Pikachu!" and "Let's Go Eevee!" due to release in November for the Nintendo Switch. These games will be compatible with Pokemon Go, which has recently inspired me to re-download the app and start playing again since the weather is getting nice! I'm way behind in Pokemon Go so I have plenty of work to do if I'm gonna catch 'em all! Where's my Team Instinct squad at?? lol
Of course that wasn't the only important Pokemon announcement. Another, main title franchise Pokemon game is coming out in 2019… and it will be releasing on the Switch! It's a little sad that the 3DS is really starting to be phased out, but the potential awesomeness of playing a main Pokemon title on a big TV screen is too good to pass up. I hear that there will be even MORE new Pokemon added to the 'Dex too so it's time to renew my Pokemon Bank account and make sure I finish my Alola Dex before I fall too far behind! Gah!
Was that all? Nope! Right now you can download a "free-to-start" game called Pokemon Quest. It's been on the eShop for about a week or so now and I downloaded it. Their game design choice was to make all of the Pokemon into block-form, as though they were made of legos or in the game Minecraft. Why are they like this? No clue.
They call it free-to-start because you can certainly start the game for free and play it for free, but it will be very slow. In this game you have a battery and when it runs out of charges you have to wait for it to re-charge, or use in-game currency, which you earn a little bit of each day… but there's a lot of perks to buy and it's easy to run out.
This is when the game becomes less free. Sure you can wait for your daily allocation, or you can pay real money to get more. If you buy the premium packages, not only do you get bonus in-game money, but you also earn more on your daily allotments. The premium packages also include other perks like decorations that help with getting certain color berry drops, attracting certain types of Pokemon, etc.  as well as a few higher level bonus 'mons to add to your team right then and there.
I decided to buy the most expensive pack because it seemed like the best deal. For around $30 I got a major head start on the game, plus way more in-game bucks. This helped me bolster my team so I could make some good progress in expedition mode. Using their new My Nintendo gold coin function in the eShop, I was able to apply 400 coins and get $4 off my total price, which was pretty nice!
The actual gameplay is EXTREMELY CASUAL. Hardcore gamers will likely be frustrated with this game. Hardcore Pokemon fans gotta catch em all so I play it for the Pokedex completion, because the gameplay is frankly… boring. There's two modes: automatic and manual. Neither of these modes allow you to control where the Pokemon move around in the field. (Originally I had expected this game to be like Pokemon Rumble, but in that game you have full control of your toy Pokemon.) What you can control, in the manual mode, is which Pokemon Attack the 'mons in your team decide to use, and when. However, I found that trying to do manual mode was a bit chaotic and kind of wasteful, since I didn't know where the 'mons would be moving to, and my moves would end up missing. So I moved to automatic mode and took more of an "overseer" approach to the game. I play it more like team management strategy.
To make friends with new Pokemon, you have to cook up dishes using berries to attract different types of 'mons to visit your little base camp. One time I even got a shiny! Once you have a Pokemon on your team, it will level up when it completes an expedition. The Pokemon seem to follow the normal evolution rules of their species, with the exception of any evolution stones, because I haven't seen those. There are Power Stones that you can collect and apply to the Pokemon to increase their power and defense, as well as to amplify their moves. You can even train up your Pokemon to learn new moves, but you will have to sacrifice some of your existing Pokemon to finish the training. Choose wisely!
Overall, do I recommend this Pokemon Quest to all gamers? No. I would recommend it for younger players and those who just love anything from the world of Pokemon. It definitely is not like most other Pokemon games, and those looking for an RPG will be very disappointed. If you go into it with lower expectations, you might find that it's a fun casual game to play when you're on the go.