While we all anxiously wait for the inevitable announcement (someday) of an Animal Crossing Switch title, most fans are content to play Nintendo's mobile version Pocket Camp. I really want to give them kudos because I think this game encompasses the AC feel and cuteness of the main franchise, while seamlessly adapting it to a mobile platform and play-style.
People complained about it a little at the beginning, but Nintendo has been adding a TON of updates and new features to this simple mobile game. It seems that every two weeks there is a new in-game event regarding holidays, gardening or collecting items to craft fun new themes. This week there was another big update and there are even MORE new features! I am pretty psyched about 'em and I wanted to make sure everyone was aware and would log in and start playing some more!!
The first new addition to AC Pocket Camp is Gulliver and his ship! No, not a space ship… it seems that Gulliver has hung up his space suit in favor of a sailor suit and is now in the import/export business. What's really going on here is the game has finally added the ability for you to get rid of extra furniture or clothing items (if you befriend enough animals, you end up with some duplicate t-shirts automatically). And not only can you get rid of these unwanted items – Gulliver will bring you treats in return! Depending on the rarity of what you are throwing out, Gulliver brings snacks of varying star rating that you can give to animal friends to help them level up. It's a win-win! And you don't have to worry about shooting him down because Gulliver shows up at regular times and is super easy to find in ACPC.
The feature that Nintendo seemed the most excited to announce is apparently the most controversial on the internet right now, the Fortune Cookies! Personally, I think they are really cute. People are complaining b/c they are basically 'loot crate' cookies that give you a random item and you might end up with a repeat.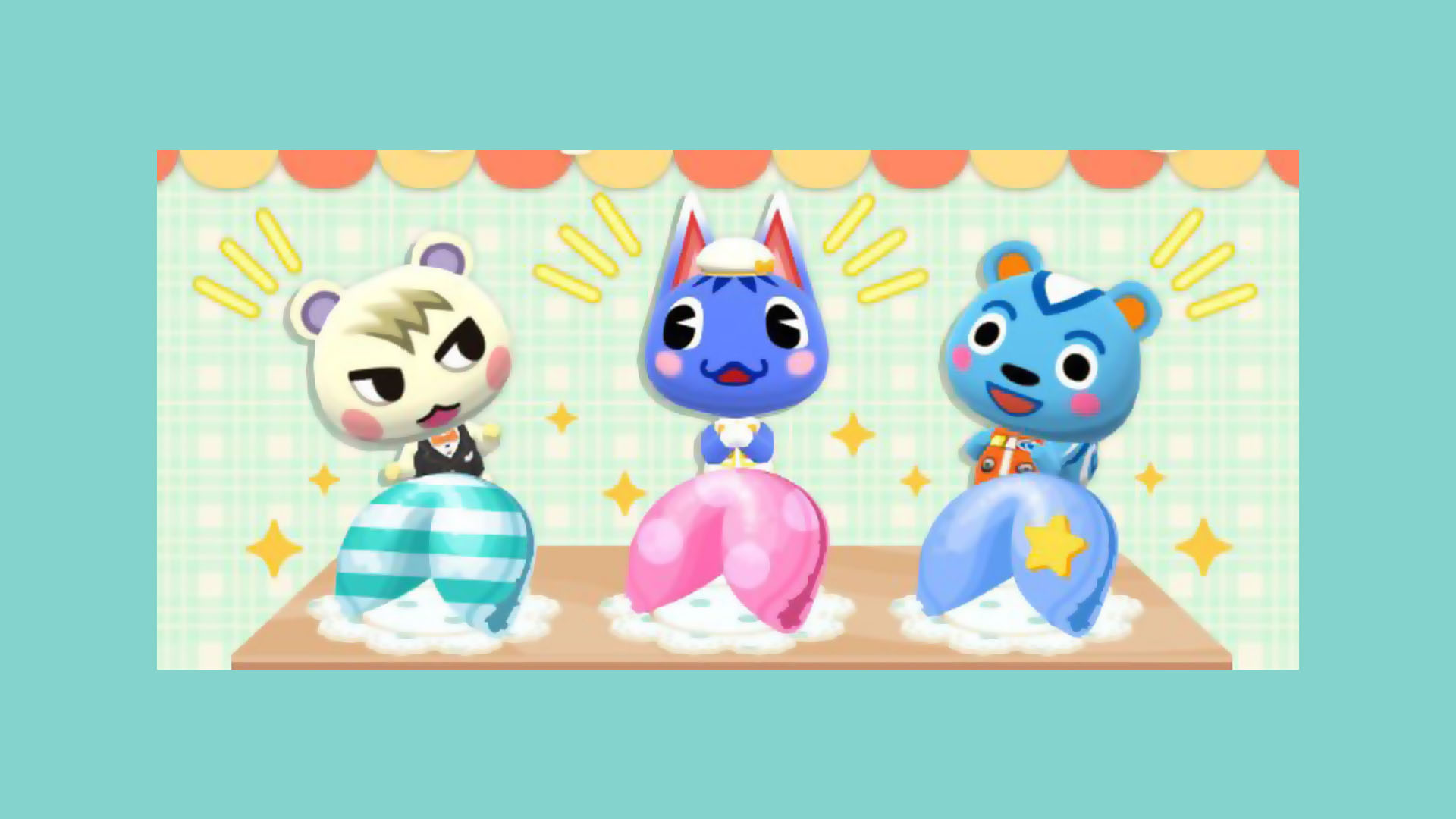 From what I've seen, there are 5 types of Fortune Cookies: Marshal's pastry cookie, Rosie's pop star cookie, Filbert's rocket cookie, Timmy's cookie and Tommy's cookie. The first three are pictured above and can be purchased with 50 leaf tickets. The cookies contain new, rare furniture items and clothing to collect. And the best part – if you do manage to collect all the items and have the right animals visiting at your camp, you can unlock cute little "Memories" which I can only assume are little cut-scenes.
What people seem to be upset about is that the Marshal, Rosie and Filbert cookies can be purchased with leaf tickets as well, and at 50 leaf tickets each… that is a little pricey. But maybe they don't realize that these premium cookies are also in the regular rotation. I bought a Filbert cookie for 5,000 bells yesterday and got this cool Control Room Desk without spending a penny!
Keep in mind that the log-in bonuses to kick off this new update are two fortune cookies, and then 5 days worth of 10x leaf tickets, so Nintendo is giving away a decent amount for free. And if you play diligently, it's actually pretty easy to accumulate plenty of leaf tickets without buying a premium pack. I have yet to spend any money on this game. I think Pocket Camp is pretty generous for a freemium game. They make it much easier to get premium currency for free than some of the other mobile games I've played on my phone.
So aside from this controversial new Fortune Cookie feature, there are even more updates in Pocket Camp that I think are even better. They are just little things, but bring more of the full Animal Crossing experience to the game. New animal requests have been added, and in certain requests you can actually select which fruit, fish, bug or flower that you want to give away. Also, the 'perfect fruits' that were introduced in ACNL can now pop up in your fruit trees at random. Which is great, because if you choose to gift a perfect fruit in an animal request, they will give you bonus treats and sometimes even a fortune cookie!
But if you're a long-time hardcore AC player like me, then the new fish and bug additions in the update are the most exciting! I caught a loach the other day! AND they added the ability to see the quantity of each item that you already own when you catch a fish, pick up a fruit, catch a bug, and pick up a shell. No more wasting inventory with a million corals because you forgot you already had them. It makes managing your items a lot easier.
Maybe the haters don't like this new update, but I am once again re-inspired to log in and check on my campers. I would also like to mention that one of my favorite things about Animal Crossing Pocket Camp is that your favorite animals NEVER LEAVE. It's not like the other AC games where townies will slip away in the night leaving an empty lot and broken hearts behind. In Pocket Camp, the animals stay until you say so! You can keep them forever and dress them up. I truly hope this sort of idea is passed along into the next AC game. Nothing is worse than the loss of your favorite animal bestie lol!
OK well I gotta go do some missions and earn some more fortune cookies because I want to unlock these new Memories! Have you been playing Pocket Camp? Are you excited or upset about the new features? Let me know your opinions!